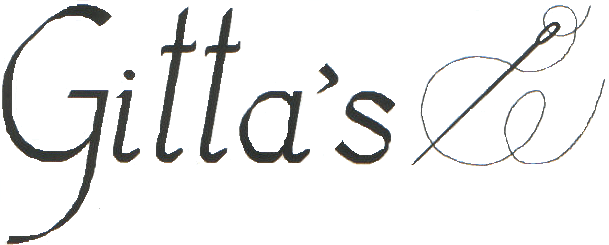 established 1985
Your One Stop Stitching Shop

---
Cross-Stitch Instructions Petit-point Instructions Hardanger Instructions
Spring 2013

Below you will find the listings for our workshops.
If you would like to book a place in one of the workshops, call or email Gitta's.

In addition to classes, individual tutoring is available!

On Tuesdays and Fridays, Mary is here (weather permitting) to help beginning stitchers and those needing to complete troublesome projects.

Fee: $20.00 per hour.


Stitch Night are the 2nd Wednesday of the month (excluding July & August)

from 5:00pm to 9:00pm.

Bring your unfinished projects and get help or simply enjoy the company of fellow stitchers.

WORKSHOPS




Saturday, November 8th, 2014

Henrietta - a Canvas work "Cuff" bracelet

Date: Saturday November 8th, 2014
Full Day Workshop: 10:00am to 4:00pm
Instructor: Lorene Salt

Workshop fee: TBA. Includes kit.

Need to bring: 6" x 11" stretcher frame, scissor, laying tool (if you require any of these, they are available at Gitta's).

Stitched on 18ct canvas, with various specialty fibres, swarovskis and pearls. As well as sharing her knowledge & techniques, Lorene will also cover how to read a canvas work master chart and stitch diagrams. She will also cover many specialty stitches used within the design and finishing instructions. The kit will include the colour selection pictured. (if you would like to choose your own colours, please contact the shop for the required fibre list.
Future Workshops
In order for these workshops to proceed, we require a minimum of six (6) attendees. If you are interested in participating please contact the shop.





Introduction to Stumpwork with Metal Threads: Fantasy Butterflies



Date: TBA




Time: Full day




Instructor: Carol Arsenault.


Carol is a certified embroidery and Stumpwork instructor, she has had many of her designs published in A Needle Pulling Thread magazine.

Maximum number of students: 15

Workshop fee: $95. This includes the kit, a $45 value

Need to bring: 6" hoop, and either a 10" hoop or 10" x 10" stretcher frame
An all purpose sharp scissor for metallic threads.

During the class Carol will cover all the stitches and techniques required to complete and attach a butterfly wing and leaf. She will also cover how to attach the beads and how to ensure that they behave and are properly arranged.



A Dimensional Canvas Project



Date: TBA




Time: 1pm - 4pm




Instructor: Diane Scott


Workshop (for all 3 days) & Kit Fee: $100

This is a delightful little project stitched on 18 count mono canvas, in tones of red in a variety of fibres. It is made up of 6 panels of a variety of canvas stitches in diagonal bands.
The project is also an exercise in compensating stitches.

TBAfrom 1pm – 4pm will be the introductory class covering fibres and outline instructions

On TBA from 10am – 4pm The stitching instructions will continue

TBA from 1pm – 4pm will cover all the finishing instructions. The apple is finished as a 3 dimensional object stuffed with fibrefill and pellets. Finishing kit fee: $5.00

Students will supply:

8" x 12" stretcher bars, tacks or staples, your preference
Clamp or frame weight
Your usual stitching accoutrements, magnifiers, light, needle magnets, etc.
Thread conditioner: beeswax or Thread Heaven (optional, but I like it for some fibres)
A laying tool of some kind: a thick, blunt needle is fine
Fibrefill stuffing
---