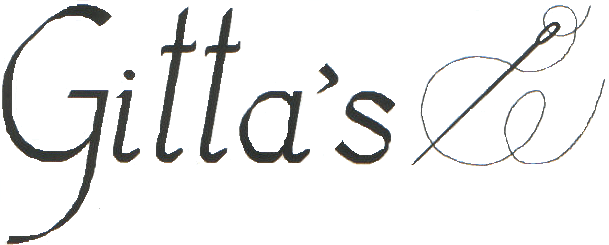 established 1985
Your One Stop Stitching Shop

---
Designer of the Month
Starting in March 2013 Gitta's will feature a different Canadian Designer each month. We will have many of their designs on display, have a store discount on their designs, hold workshops, and if possible have "Meet the Designer" days.
Kathrin has also designed a border for a Collaboration Sampler. Each designer will then contribute a free pattern for the Designer Collaboration Sampler. The border for the Sampler will be available in the shop starting in February. The designers' contribution to the sampler will then be available at Gitta's only during their designated months.
Unable to physically visit Gitta's? But want to participate and collect this one of a kind sampler? No problem! During each month, as long as you order at least one item from the designers page on our secure website we will include the free chart with your order.
Collect each designer's Free Contribution Pattern monthly at Gitta's
Next up will be Iryna Varabei for the month of May.
Iryna will join us for Stitch night on May 8th to teach her "Nizanka" techinque.
This is open to all, but there will only be room for 25, so please call the shop to sign up.

On May 11th Iryna will be in the shop for a "Meet the Designer" day. Watch her domonstrate how easy her Belarusan inspired techniques can be.


On May 25th Iryna will hold a Nizanka workshop. Workshop fee is $30, plus supplies. Supply cost will vary depending on your choice of project.


Please visit our workshop page for more detailed workshop information
The other designers in order of appearance are:

Jo Gatenby of X's & Oh's for June 2013
Maria Gollek of Marnic Designs for July 2013
Lynne Nicoletti of Lynne Nicoletti Designs for August 2013
Christine Allen of Fun & Fast Swedish Weaving for September 2013
Jeannette Douglas of Jeannette Douglas Designs for October 2013
Laura Dickson of Enchanting Lair for November 2013
Michelle Edmonds of Great Bear Canada for December 2013
Carol Storie of Heartfelt Designs for January 2014
Thea Dueck of the Victoria Sampler for February 2014
Lorene Salt of Lorene Salt Designs for March 2014
Freda Murfin of Freda's Fancy Stitching for April 2014
Kathrin Ellison of Gitta's Designs for May 2014

Keep checking back to see the happenings during each month !!!
Gitta's next Getaway is scheduled for 2015
---