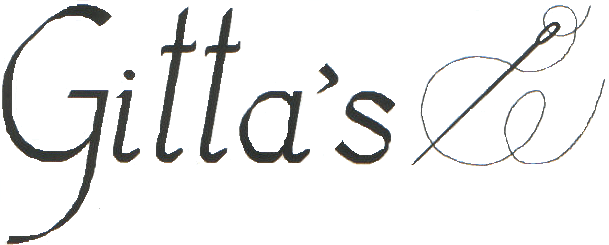 established 1985
Your One Stop Stitching Shop

---
Gitta's is your one stop stitching shop, carrying supplies for cross stitch, petit point, needlepoint, canvas work, hardanger, sampler stitching, and various other techniques.
You will find Gitta's in the heart of Port Credit,
Mississauga's city on the Lake,
at 271 Lakeshore Road East.
Ontario, Canada
History
Stitching had always been a part of Gitta's upbringing in her native Germany and later when she immigrated to Canada. But it wasn't until she began working in a little petit point shop in Toronto that her fascination with petit point grew. It was also here that she learned the true techniques of framing and stretching needlearts.
Gitta's love for stitching has also been passed onto her two daughters, Kathrin and Miriam, who both began stitching at an early age. It was with their help and her husband's support that Gitta's Charted Petit Point was established in 1985. Working out of the house, Gitta published her first catalogue featuring 25 petit point designs, while continuing to stretch and frame customer's needlearts.
It was only a year before the business had out grown Gitta's basement and in October 1986 Gitta celebrated the Grand Opening of her store with family, friends and many faithful customers.
While her daughters completed University, Gitta ran the store on her own for many years, getting help only on Saturdays.
As the store's popularity grew, Gitta's was frequented from customers as far away as Bowmanville, Barrie, and St. Catherine's. The store has also had many foreign visitors from England, Germany, Australia, and the United States.
With the addition of another full-time framer and with an increasing product line the business was out growing its space rapidly. In June 1996 Gitta's once again celebrated a Grand Opening at her current location (only 10 stores down the street), with greater floor space, a larger framing area and a workshop room with large windows.
The current store now offers supplies for all kinds of needlearts, custom framing, upholstery and pillow finishing, and workshops for various techniques.
Staff at Gitta's
Gitta's remains a family affair it is simply that our family continues to grow. The following people continue providing Gitta's customers with the expertise and friendly customer service they have come to rely on at Gitta's.
Gitta Al-Basi: Owner, stitcher, framer, & petit point instructor. For greater detail please see history mentioned above.
Kathrin Ellison: Owner's daughter. Kathrin began stitching at the age of 11, and over the years has acquired many stitching techniques. Her first love, however, is still petit point. Today Kathrin is fully involved in the store at all levels except framing. She also instructs stitching techniques at the store & consumer shows, and both instructs petit point & promotes Gitta's designs (with the help of her husband) at industry trade shows.
Mary Stewart: Mary has been with Gitta's for several years, and a member of the Toronto stitchery guild. She brings with her a lifetime knowledge of stitching techniques, she both focuses on instructing and customer service.
Ietje Jackovich : Ietje (pronounced Eka) brings a vast knowledge of stitching, canvas work, and trade show experiences. As a member of their local stitching quilds in Mississauga and Toronto. Ietje is also an instructor at Gitta's and a designer of canvas work, her most well known designs being a large and small Kimono. Currently, Ietje is busy on her next projects for the new year!
Monika Juengel : Monika a stitcher for over 35 years brings to Gitta's her vast knowledge of cross-stitching, petit point, samplers and trade show experiences. Currently, Monika is a integral part of the team with her assistance in the shop and mail order. Our framing services have also greatly benefited from Monika's artistic flair. Her hand-painted mats will add an additional touch to any artwork. Drop by the shop to see for yourself!
Instructors at Gitta's
Mary Stewart: As well as that already mentioned above, Mary instructs the yearly class project by "Just Nan", as well as sampler stitching by "Thea Dueck", and canvas stitchery by Rainbow Gallery.
Kathrin Ellison: Please see above.
Ietje Jackovich: Ietje is an accomplished stitcher, and although she primarily teaches canvas techniques, she also teaches a class in which you create your own fabric box. The kimonos Ietje has taught at the store are her own design.
Nancy Cline: Nancy teaches a workshop, titled ornament finishing. She has a wonderful creativity and experience when it comes to her ornaments. Every one leaves her workshop with a sense of confidence and a desire to create more.
Designers at Gitta's
Gitta & Kathrin: After petit pointing many designs already on the market, they decided to take the next step and began designing their own. Kathrin has just completed a new design of a Madonna with Child, and is finishing "The Strawberries" to compliment the "The Blackberries".
David Ellison: David joined the design team not long after meeting Kathrin. Having great artistic creativity he is responsible for the Inuit series, The Old Mill, The Schnauzer, and the Puppies. He is currently working on a Kitten design to compliment the Puppies.
Webmaster
Sarah Ellison: we have a new webmaster (as of August 2013) in place who watches over our website and is constantly updating the site.
---